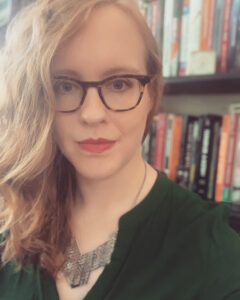 I am a Ph.D. candidate in political science and graduate fellow with the Institute for Legal Studies at the University of Wisconsin–Madison. I study what it means to "know terrorism when we see it"—and who gets to decide. I do this by talking to national security bureaucrats and policymakers in Germany and the U.S. and seeking to understand how the people who make counterterrorism policy understand what terrorism is, where it comes from, and what makes it different from other forms of violence.
My dissertation project, The Idea of Terror: A Critical Approach to Consequences of the "Terrorist" Classifier, uses a grounded theory approach through interviews and fieldwork to develop a framework explaining application of the "terrorism" label across time and space as a process of protecting elites' rights to govern. I use this framework to trace implications of the political construction of "terrorism" for militant propaganda and international law, particularly in an era characterized by white supremacist violence. I also work on far-right extremism, international security law, and text as data. My work has been published or is forthcoming in International Studies Quarterly, The Oxford Handbook of Behavioral Political Science, Lawfare, The Washington Post, and Political Violence at a Glance.
I am a devoted educator and a proud member of the Teaching Assistants' Association, UW–Madison's graduate labor union. As a queer, non-neurotypical academic, I am passionate about creating classrooms welcoming to and inclusive of all learners. As a white scholar, I am committed to amplifying the voices of scholars and students of color. I am a member of UW–Madison's selective Teaching Academy and a two-time department nominee for campus-wide teaching awards. I have also piloted my department's first diversity recruitment initiative, served on both departmental and professional committees advocating for graduate students, and was part of a team that studied the history of Black faculty hires in UW–Madison political science.
Prior to beginning my Ph.D., I worked on the Global Terrorism Database at the START Consortium at the University of Maryland, on communications and defense research at the Project On Government Oversight, and in coffee and wine sales. I hold an MA in political science from UW–Madison and bachelor's degrees in international relations and modern languages (summa cum laude, with honors) from Knox College. I use she/her pronouns, and I am a settler on the ancestral, unceded lands of the Ho-Chunk people.
I tweet frequently about terrorism, academia, and social justice at @AnnaMeierPS.